Introduction
Ha Thanh Ceramic Tile Factory is a unit under Ha Thanh Concrete Joint Stock Company, established under Investment Decision No. 966/QD-UBND-HC dated September 12, 2019 issued by the Chairman of Dong Thap Province People's Committee. .
Address: Hamlet K12, Phu Hiep Commune, Tam Nong District, Dong Thap Province
Construction started from the beginning of 2018-2019 and completed
The factory officially went into operation in the third quarter of 2020.
Total area: 16.5 hectares.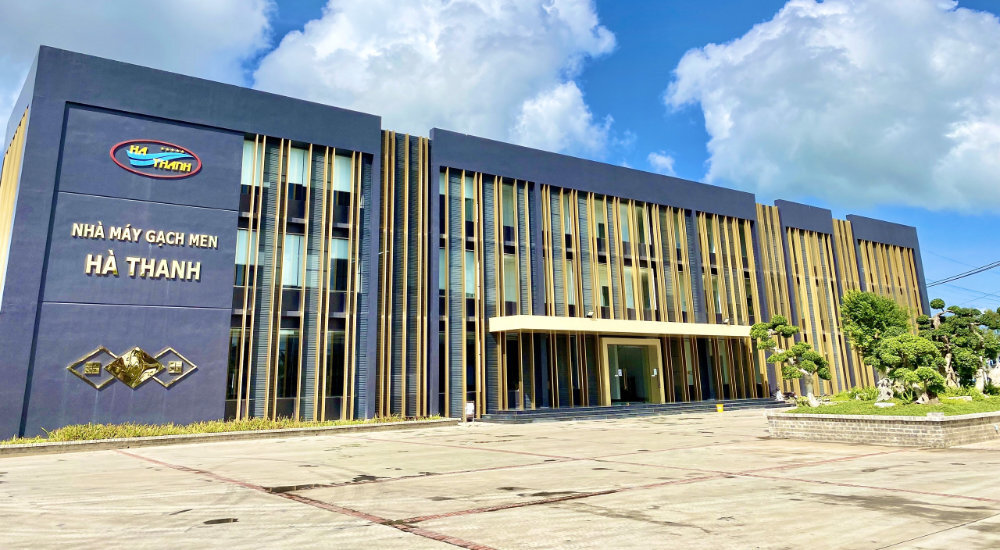 With the most modern and synchronous equipment system and production line from advanced countries in the world, the average capacity reaches 24 million m2 of products/year. All machines of Ha Thanh Ceramic Tile Factory are assembled according to the technical process for optimal precision operation in terms of quality, ensuring the aesthetics of each product. Enamel materials and color printing ink are 100% imported from leading European raw material manufacturers to produce sophisticated product lines such as: Riotiles high-grade ceramic tiles, 3D, 4D digital printing. , rich in designs, diverse in size such as 250 x 400; 300 x 450; 300 x 600; 500 x 500mm and Ha Thanh's main product is 300x600 mm high-grade ceramic tiles with a capacity of 23,000m2/day.
Ha Thanh's product production process applies a high quality management system according to international standards ISO 9001: 2015. Commitment by product quality is the clearest proof of respect for customers, respect for users, towards perfection and brand affirmation. We dream that the high-class ceramic tile products produced by Ha Thanh Ceramic Tile Factory will reach every Vietnamese family and reach out to the international market.
Contact us
Contact: Ha Thanh Ceramic Tile Factory
Address: Hamlet K12, Phu Hiep Commune, Tam Nong District, Dong Thap Province
Phone: (028) 3535 1936  fax: (028) 3535 1933
Email: info@betonghathanh.com.vn